Reservations
Use the form below to check room availability, entering your planned arrival and departure dates. Please be aware there is a two night minimum. If you have special circumstances and need a shorter stay, please contact us.
Please review the Thirteen House Visitation Agreement.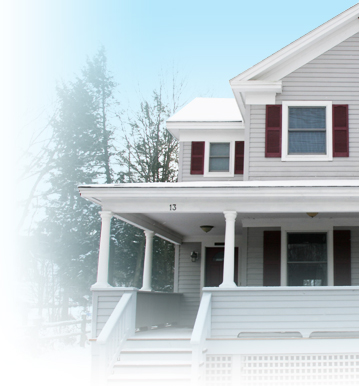 Purpose
Thirteen House is a first-rate accommodation designed to bring Thirteeners and their families back to Colgate. The house will foster interaction among all Thirteeners, provide a permanent center of gravity for returning Thirteen alumni and promote more frequent and open dialogue between students and alumni. Visions of spontaneous visits, reunions with roommates, a hockey weekend, football game, golf, or singing with "the boys" were at the root of Thirteen House's founding. Thirteen House sets a new standard for alumni involvement at Colgate generally and perpetuates the rich Colgate Thirteen tradition.
Guest House Fees
Although Thirteen House is not a business—it is a private home—modest overnight fees defray weekend cleaning and operating costs and help ensure the proper use of the house. Check our room rates for fees and costs. When not rented, the house is cleaned and locked, eagerly awaiting its next guests.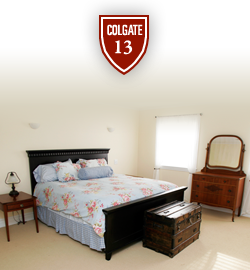 Appropriate Uses
Alumni: Thirteen House is a private, first-rate Guest House exclusively for Thirteeners, families, and friends. Please treat Thirteen House as you would your own home...or mine! Invite in current Thirteeners or faculty if you wish to. Proper group singing events or soirées are encouraged. However, damage, abuse or inapproprate usage are prohibited. These or excessive cleaning requirements are guests' responsibility.
Students: Thirteen House is not a student facility but may be used by Thirteen officers for suitable functions such as receptions for propects, professors or college Presidents, etc. Primarily, Thirteen House is available to parents of Thirteeners for visits to Colgate, Banquet and Graduation weekends, etc.
Please remeber that Crusties, parents, and Colgate VIPs alike may stay at Thirteen House simultaneously.