GRADUATION, FAMILY & REUNION WEEKENDS: Please reach out by email for availability and booking.
WHOLE-HOUSE & WEEKLY GUESTS: Please reach out by email for availability and booking.
Use the form below to check room availability, entering your planned arrival and departure dates. Please be aware there is a two night minimum. If you have special circumstances and need a shorter stay, please contact us.
---
---
Please review the Thirteen House Visitation Agreement.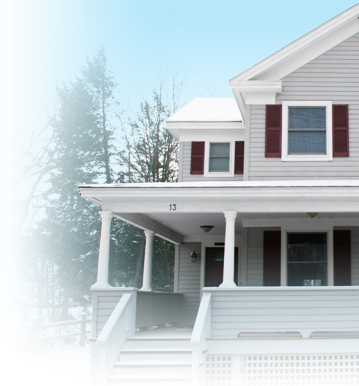 Purpose
Thirteen House at 13 College Street in Hamilton is a first-rate accommodation designed to bring past, present and even future Colgate families and friends back to Colgate.
Thirteen House was founded in 2000 by Colgate 13 alum Bob Austrian '85 to foster interaction among alumni and student families.
Filled with Colgate and Colgate 13 memorabilia and built with an open floor plan, Thirteen House directly adjoins Colgate University on College Street to provide a unique, immersive Colgate experience any time of year.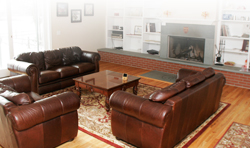 Guest House Fees
Although Thirteen House is not a for-profit business per se — it is a private home — overnight fees defray weekend cleaning and operating costs and help ensure the proper use of this unique accommodation.
Check our room rates for fees and costs. When not rented, the house is cleaned and locked, eagerly awaiting its next guests.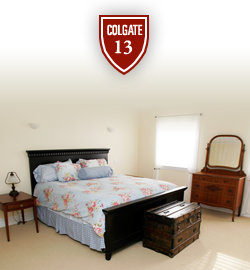 Appropriate Uses
Alumni: Thirteen House is a private, Guest House for Colgate families and friends returning to Colgate. Please treat Thirteen House as you would your own home…or mine!
Responsible group activities are welcome at Thirteen House, including weddings and family gatherings. Damage, abuse or inappropriate uses are prohibited. These or excessive cleaning requirements are guests' responsibility.
Students: Thirteen House is not a student facility but may be used by Thirteen officers for suitable functions such as receptions for propects, professors or college Presidents, etc. Primarily, Thirteen House is available to parents of Thirteeners for visits to Colgate, Banquet and Graduation weekends, etc.
Decorum: Multiple guests often stay at Thirteen House simultaneously, coming and going as athletic and other events dictate. Please be respectful of other guests in our Colgate family.